What to expect at the Travelodge Gatwick
There are not many Gatwick Airport hotels as conveniently located as the Travelodge Gatwick. It's a 3-star budget choice for groups and families, offering basic but comfortable rooms at very reasonable prices, and you don't have to travel far to reach either Gatwick terminal.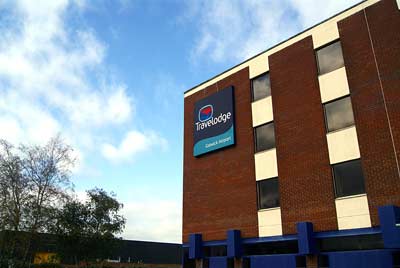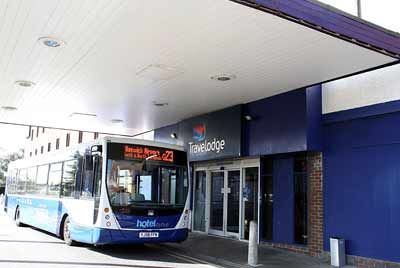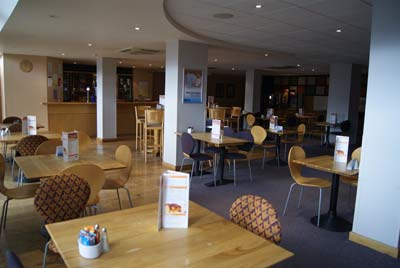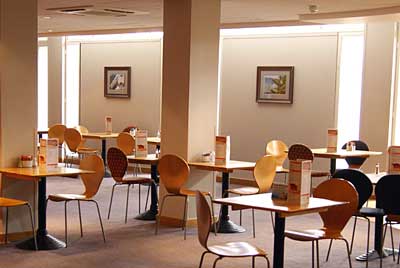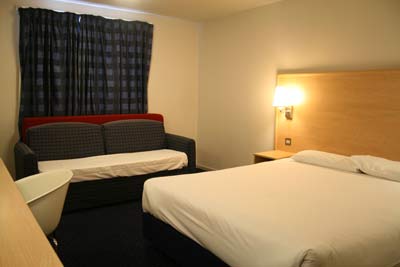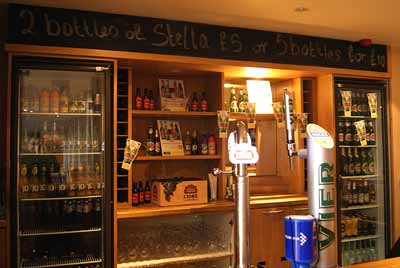 A combined restaurant and bar at the Travelodge Gatwick provides tasty food and drinks, with the restaurant open for breakfast and dinner. Meals and refreshments are moderately priced, a nice surprise when you consider how close to the airport the hotel is situated.
Features at the Gatwick Travelodge
During the day, you're welcome to sit with your favourite drink and watch television in the Travelodge Gatwick's bar. Comfy leather sofas add to the ample seating in the bar area, letting you relax and ease into your holiday before you leave for the airport.
Free Wi-Fi is available in the bar and restaurant at the Gatwick Travelodge, so you can check in online before you fly or recharge your phone for a weekend away.
Check-in times
Check into the Travelodge Gatwick from 3pm. You must check out by midday on your date of departure. If you need to arrive/depart at another time, this must be arranged with the hotel beforehand.
Parking at the Gatwick Travelodge
In addition to the Travelodge Gatwick's own car park, the hotel is also close to a number of Long Stay car parks that you can book at the same time as your hotel.
Procedures
When you arrive at the Gatwick Travelodge, park in the hotel's underground car park and check in. As the car park is public, you wi ll need to ask for a voucher at reception – otherwise you may get a parking ticket.
On your departure from the hotel, you have three parking options: Airparks Gatwick just outside the airport, or the Long Stay car park
If you choose to leave your car at Airparks, park in an arrivals bay and head to reception to confirm your booking and leave your keys with an attendant. Your car will be securely parked for you. Airparks Gatwick is a secured car park with high barriers, monitored by regular patrols and CCTV, so you can be sure your vehicle is in good hands.
Should you wish to keep your car at one of Gatwick's Long Stay car park whilst you're away, make your way to the entrance and take a ticket at the barrier. You will then be directed to a zone in which to park. Leave your car in the parking space and enjoy your holiday!
Getting to and from Gatwick airport
A hotel shuttle bus runs to Gatwick airport from 3.20am until 12.20am every day (except Christmas Day). The charge is £20 per adult and £2.20 per child. This service is operated by Hotelbybus.
Airparks is served by 24 hour buses to both airport terminals, running every 15 to 20 minutes as a Park and Ride service. It takes 10 minutes to reach the North terminal, and 15 minutes to the South terminal. You'll need to catch a return bus from stop 6 or 7 at the North terminal and 7 or 8 at the South terminal, which will bring you back to Airparks to collect your car.
The Long Stay car parks at Gatwick airport provide shuttle buses to the terminals roughly every 10 minutes. The buses operate 24 hours a day, so you needn't worry about getting back too early or late.
Over-stay charges
Should your flight be delayed, or if you need to park for additional days, you will be charged at the daily rate for the car park where your vehicle is parked. Please refer to the Airparks and Long Stay Gatwick car park websites for their charges.
Dining and drinking at the Gatwick Travelodge
The combined bar and restaurant at the Travelodge Gatwick is on the ground floor next to reception, and offers a wide selection of food and drinks at very reasonable prices. Children are welcome at all hours, so please be aware that this area can get very busy in the evenings. The restaurant opens at around 5pm to 6pm, and there isn't a set closing time, although the bar will generally close at about 11pm.
Vending machines in the hotel reception are available 24 hours for when you're a little peckish or fancy a midnight snack.
Menu
The dishes offered at the restaurant are often seasonal, and mainly revolve around a traditional selection of 'pub grub' – good, filling meals with something to suit everyone. The bar provides a familiar selection of alcoholic drinks, soft drinks and beverages.
Directions to the Travelodge Gatwick
Directions from
The Travelodge Gatwick hotel is very close to the airport, and is most easily accessible by car.
To reach the hotel by car, leave the M23 at junction 10, taking the A2011 Crawley Avenue. Go straight on at the first roundabout.
At the second roundabout, take the fourth exit onto London Road. At the third roundabout, go straight on.
After roughly a mile and a half, take the first exit off the roundabout onto Old Brighton Road South. The Travelodge will be signposted.
Turn right at the next roundabout, onto Church Road, and you will see the hotel on your left immediately.
As the hotel is so close to the airport, the nearest rail station is Gatwick Airport, close to the South terminal. Trains from the airport run into central London regularly, providing local and National Rail links plus access to the London Underground. Bus service G23 operates from Gatwick airport, and stops at the Travelodge.
Local bus services operate from directly outside the Travelodge Gatwick hotel, and some buses connect other local hotels to the airport terminals, calling at the Travelodge en route.
Rooms at the Travelodge Gatwick
All rooms at the Gatwick Travelodge are of a similar size and layout, with modern clean décor. Some rooms face the runway, giving avid plane-spotters an excellent view of takeoff and landing.
Room facilities
Wi-Fi access is available in every room, along with a flatscreen TV, a desk, and adjustable heating. En-suite bathrooms boast a large mirror for shaving and applying makeup, with a shower over the bath to make life (and your morning routine) a little simpler.
Room types
There are double rooms and family rooms available at the Gatwick Travelodge. All rooms have a double bed, storage space, and bedside tables with lamps. An additional sofa bed in each family room allows for two more single beds. Family rooms are also suited for groups, as the hotel will happily accommodate three or four adults in the same room. There are also a number of twin rooms available, please contact the hotel for more details.