What to expect at the Ramada Plaza Gatwick
The 4-star Gatwick Ramada Plaza has an inviting and friendly atmosphere that makes you feel right at home throughout your stay. Like most of our Gatwick Airport hotels, it's ideal for all kinds of travellers, with a plush feel that suits business guests as well as families. The hotel is less than four miles from the Gatwick airport terminals, so getting to and from the airport for your flight won't be a worry.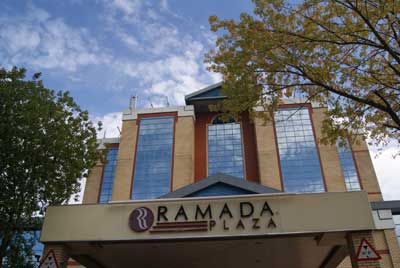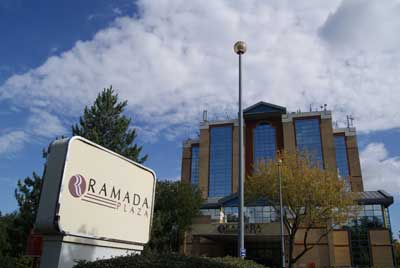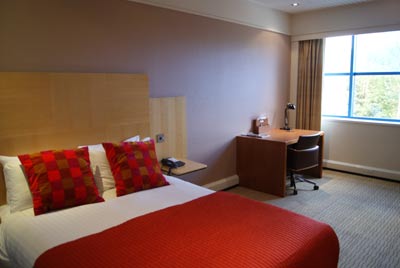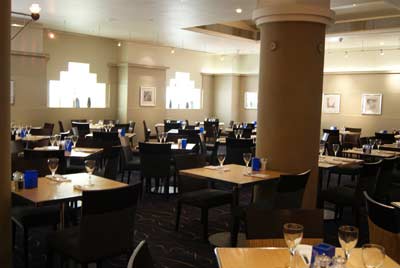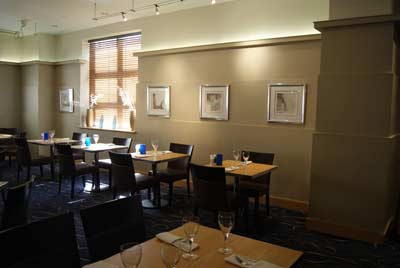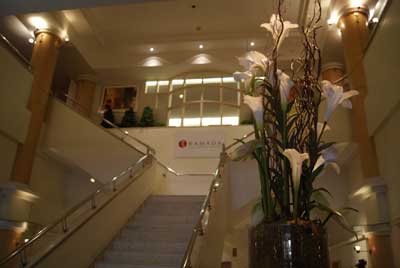 At the Ramada Plaza Gatwick you can enjoy spacious rooms that provide more than enough space for your whole family, with triple and quad rooms to accommodate your entire family, as well as your luggage. There's a restaurant and bar on site, so you'll have somewhere to relax and unwind before your flight. There are also great leisure facilities to keep you occupied, and a stylishly designed bedroom to settle down in at the end of the day. There's an overnight car park to keep your vehicle in at the Ramada Plaza Gatwick, and Long Stay parking packages incorporate the nearby Airparks Gatwick, which offers great value on parking for the duration of your holiday.
Features at the Gatwick Ramada Plaza
The Ramada Plaza Gatwick is ideal for travellers who want an equally chic and calming stay at one of Gatwick's grandest hotels. Don't be put off by the Gatwick Ramada Plaza's grand stature though… inside, it's a cosy establishment, with attentive and friendly staff who will make you feel at home as soon as you check in.
There's a restaurant and bar on-site, with stellar food that won't burst your budget. In case you've forgotten anything to take on holiday with you, the Gatwick Ramada Plaza sits just around the corner from a huge Tesco Extra supermarket. If you need something to occupy you during your stay, then the leisure facilities are sure to give you something to do. The gym is free to use for all guests, and includes treadmills, rowing machines and cross trainers to keep you in top condition before you hit the beach.
Conclude an afternoon of fitness at the gym with a mouthwatering meal at the Art café by retiring to your room, with tastefully fitted décor and all the facilities you need to get a restful night's sleep. Settle down to watch your favourite programme on your bedroom's TV, or get internet access from each room with great-value packages available at reception.
Check-in times
Guests can check in to the Gatwick Ramada Plaza from 2pm and need to check out by noon the next day.
Parking at the Gatwick Ramada Plaza
It's easy to park at the Ramada Plaza Gatwick, with a large car park for you to leave your car in overnight for £5. The hotel offers great parking packages with the Airparks Gatwick service, which offers Long Stay parking at fantastic value. There are also parking options available to drop your car at the airport's Long and Short Stay car parks or, for ultimate convenience, use the Maple Manor Meet and Greet parking service.
There's a 30 minute free period in which you can park and drop off your luggage, before you will need to make your way to the car park where your car is stored for the duration of your holiday.
Procedures
When you check in to the hotel, you can leave your car in one of the spaces on the Gatwick Ramada Plaza site. If you've booked a parking package with the hotel in conjunction with Airparks Gatwick, you'll then be able to drive to the Airparks Gatwick car park on the morning of your flight, where you will drop off your vehicle and receive a free transfer to the airport.
Alternatively, if you've bought a parking package with the Long or Short Stay car parking facilities at Gatwick airport, you can drive to the car park and leave your vehicle in one of the many spaces, then take the free bus service to your terminal. The Maple Manor Meet and Greet service gives you ultimate convenience by sending an attendant to pick up your car at the Ramada Plaza Gatwick and take your car to the secured Maple Manor car park for the duration of your holiday. They will then deliver it back to you when you return to your terminal once your holiday is over.
Getting to and from Gatwick airport
Once you've dropped your car off at the Airparks Gatwick car park, you will need to catch the shuttle bus to the Gatwick airport terminals. The shuttle bus service operates between the hotel and Gatwick airport 24 hours a day, running every 15 to 20 minutes and taking around ten minutes to reach the terminals. There's also a shuttle bus service from the Long Stay car parks, and local taxi services operate between the hotel and the airport.
If you're using the Maple Manor Meet and Greet service, then you'll need to catch the G23 shuttle bus from the Ramada Plaza Gatwick to the airport. The bus operates from 3am until 12.45am daily, and costs £3.20 for an adult single and £2.20 for a child. The journey time to the terminals is between 20 and 25 minutes, although the bus does stop at other hotels and travels on busy roads on approach to the Gatwick airport terminals.
Over-stay charges
Extra days at the Gatwick airport Long Stay car parks and Maple Manor car parks are charged at the daily parking rates. Extra days at the Airparks Gatwick car parks are charged from £2.99 per day.
Dining and drinking at the Gatwick Ramada Plaza
The lively Arts Restaurant at the Ramada Plaza Gatwick is the best way to wind down after a busy day and relax before you jet off on holiday. The warm and inviting restaurant serves a brilliant breakfast buffet from 6.30am until 10am, as well as a dinner menu that's sure to impress you. The restaurant opens for both lunch and dinner, and food can also be ordered from the bar until 10.30pm. After dinner, relax with a soft or alcoholic drink in the stylish Club Bar, where you can unwind before bedtime.
Menu
Breakfast at the Arts Restaurant consists of a delicious buffet that's sure to suit all tastes. Choose from cereals, yoghurt, fresh fruit, pastries and toast, as well as all of the elements of a traditional English breakfast. Eggs are also available in whichever way you want them cooked! In addition, there's a breakfast special for those who fancy some mystery with their morning meal.
The delicious dinner menu features a selection of fine meals that you might not expect from a hotel. Dishes including beer-battered haddock, scallops, and griddled sirloin steak make the menu something really special. You can also choose from a selection of fresh salads and pastas, and finish your meal with a tasty dessert. You can also order a glass of wine from the extensive list to accompany your meal.
Directions to the Ramada Plaza Gatwick
Directions from
The Gatwick Ramada Plaza is easy to find, as it sits on one of the main roads in the Gatwick and Crawley area.
To arrive by car, exit the M23 at Junction 10 and bear left on the roundabout along Crawley Avenue (the A2011), staying in the left lane.
Continue straight ahead until you see the hotel on your left.
At the next roundabout, turn left and then immediately left, and you'll have arrived at the Gatwick Ramada Plaza.
If you're arriving by train, you can get off at Three Bridges station. The hotel is only a ten-minute walk or five-minute taxi ride from the station.
Rooms at the Ramada Plaza Gatwick
The spacious and stylish rooms at the Gatwick Ramada Plaza are guaranteed to have you feeling relaxed, soothed and at home from the moment you arrive. The rooms are all well equipped to serve your needs during your stay, and each of them benefits from an en-suite bathroom. The seven floors of the building supply amazing views across both the countryside and the Gatwick airport runway, but don't worry – the soundproofing means that you won't get woken up by the sound of aeroplanes taking off!
Room facilities
The plush 4-star rooms come with a flatscreen TV, trouser press, cable internet, iron and ironing board, hairdryer, drink-making facilities, a fridge and a telephone. Pay-per-view movies are available on the television and there's also air conditioning to keep you cool and comfortable during the night.
Room types
There are double, family and triple rooms available at the Ramada Plaza Gatwick, with twin rooms also available if needed. If you're travelling with your family, you can even book several rooms that are interconnected, so you can enjoy your own space away from the kids but know that they're only a door away if needed. If you're looking for disabled rooms, then give the hotel a call to book one of the specially-designed disabled access rooms.