What to expect at the Crowne Plaza
As far as Heathrow Airport hotels go, the 4-star Crowne Plaza Heathrow is unquestionably one of the most opulent. It's a grand building in which you will find everything you could want for a relaxing and stress-free stay. Plus, being well connected to the airport and only two-and-a-half miles away from it, the hotel is definitely a convenient choice as well as a luxurious one.
There's many things to like about the Heathrow Crowne Plaza, for example, the golf course and the swimming pool. In addition, there are several impressive dining choices and 24-hour room service to take the fuss out of food during your stay. Parking is stress-free too, simply park at the airport and leave your car there for the duration of your holiday.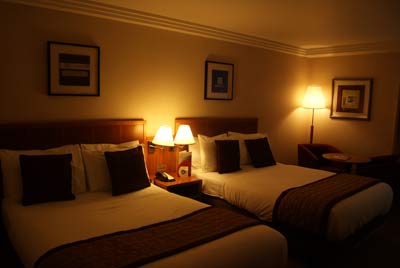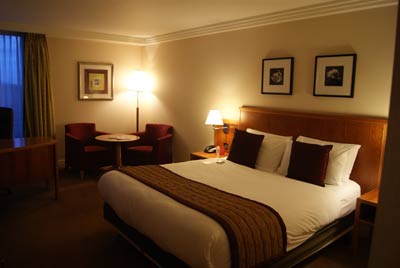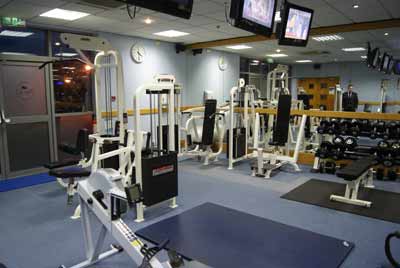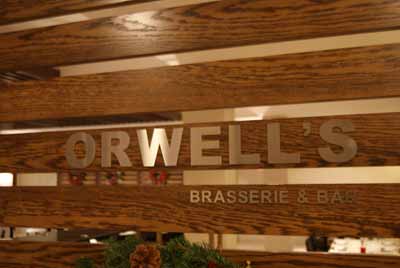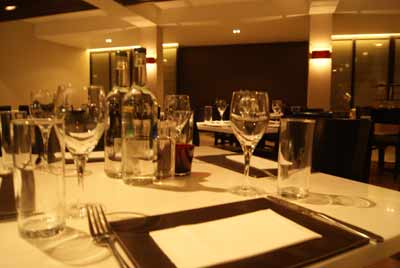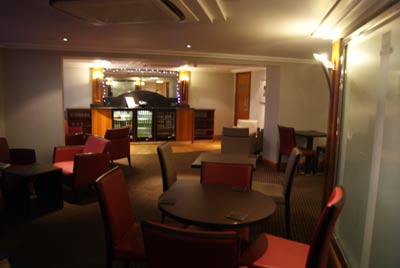 Features at the Heathrow Crowne Plaza
It's hard to believe the amount on offer at the Crowne Plaza Heathrow, you are spoilt for choice during your stay. There's a wide range of amenities available to guests, all designed to make your life that little bit easier before you jet off abroad.
As if it weren't enough that the hotel offers two restaurants, a bar and a gift shop with a library inside, the swimming pool and nine-hole golf course are both open to all guests – ideal if you're travelling with little ones and want to give them something to do for the afternoon. For adults or older travellers, there's also a solarium and beauty salon to indulge in. Since the hotel has close links with nearby Legoland, there's also a children's playroom with a Lego theme. It's positioned close to the restaurant on the ground floor, so you can take the afternoon off and leave the kids to play by themselves while you unwind with a coffee.
At the Orwell's Brasserie Restaurant, you can enjoy modern British cuisine, whilst over at Eriki there's fine Indian cuisine on the menu. After dinner, enjoy a drink at Dr O'Driscoll's Bar before heading off to bed in your luxuriously kitted-out bedroom. After all that swimming, golfing, relaxing and eating – you'll definitely need a rest!
Check-in times
You can check in from 3pm but you will need to check out before noon on your departure day.
Parking at the Heathrow Crowne Plaza
The Crowne Plaza Heathrow offers parking on-site, allowing you to leave your vehicle securely whilst you fly.
Procedures
Simply arrive at the hotel, park up, and make your way to reception for check-in. That's all there is to it. When it's time to catch your flight, take a Hoppa bus to the terminal, and return in exactly the same way to collect your car.
Getting to and from Heathrow airport
You can take the Heathrow Hoppa bus from the hotel to the terminals, and it'll bring you straight back when you return from your holiday. For Terminals 1 and 3, the H1 bus runs every 20 to 30 minutes between 4.42am and 11.38pm. For Terminals 4 and 5, the H51 bus runs half hourly between 4.21am and 11.51pm.
Transfer charges
Tickets cost £4 single or £7 return, if bought in advance, but £4.50 single and £8 return if purchased from the driver. Up to two children under 15 can travel free with a paying adult.
Dining and drinking at the Heathrow Crowne Plaza
At any time of the day or night, the Crowne Plaza Heathrow offers a number of food and drink options to guests – so whether you're arriving later in the day or have to head off for a red-eye flight, you will be able to get something to eat when you need it.
Orwell's Bar & Brasserie
There's nothing remotely 1984 about the modern Orwell's Bar & Brasserie – it serves twists on classic dishes to bring them right up to date. The open kitchen at the brasserie allows diners to watch their food being cooked, and the menu boasts a selection of tempting desserts. Orwell's is also extremely family friendly - if there's an adult dining, then up to two children under 12 can eat for free. The bar is located in the lobby, and has an impressive cocktail list alongside all of the standard alcoholic and soft drinks.
Orwell's Brasserie has a menu that's been inspired by the capital's Borough Market, and you will find plenty of home grown ingredients in each dish. If you're in the mood for a hearty meal, try the Casterbridge Cotswold rump of lamb, or sample the Devon crab salad if you're after a lighter bite. Vegetarians are also well catered for with a delicious Wensleydale tart and grilled goats' cheese with soda bread. To finish off your meal, you can opt for a pudding or the cheese board with crackers and chutney.
Guests in need of liquid refreshment will appreciate the variety of choice at the Orwell's lounge bar. It's stocked with a full range of wines and spirits, and ideally placed for a relaxing afternoon drink or a sneaky nightcap. The bar also serves snacks and hot drinks, and there's a choice of iced coffees if you like your caffeine a little cooler.
Dr. O'Driscoll's Irish Bar
You don't have to be headed for Dublin to appreciate Dr. O'Driscoll's Irish Bar. It's open from 5pm until 11pm every day, offering a range of wines, spirits, and soft drinks, not to mention that famous black and white dry stout. Relax with your pint in front of the television, or order some pub grub when you're feeling peckish.
At Dr. O'Driscoll's Irish Bar, the menu represents more than just the Emerald Isle, with scotch egg, Melton Mowbray pork pie, and Welsh rarebit available as light bites. The rest of the menu showcases the very best of British – fish and chips, steak and ale pie, and sausage and mash, to name just a few. Make sure to save space for dessert, as the sticky toffee pudding comes with proper Cornish clotted cream.
Directions to the Crowne Plaza Heathrow
Directions from
Just a quick hop from the M4, the Heathrow Crowne Plaza is incredibly easy to find. The directions might seem short, but there's nothing missing – that's really all you need to know.
If you're arriving by car, exit the M4 at junction 4 and take the A408 towards West Drayton.
Go straight over the roundabout at the interchange, and the hotel will be on the left-hand side of the road.
If you're heading to the hotel from the airport, just catch a Hoppa bus from the terminal and it'll drop you off at the front door. Take the H1 bus from Terminal 1 and 3, and the H51 from Terminal 4 or 5. Buses run from roughly 4.30am until midnight, starting and finishing at a different time at each terminal. From Terminal 1, the H1 bus runs every 20 to 30 minutes between 4.42am and 11.38pm. From Terminal 3, the H1 bus leaves every 20 to 30 minutes, starting and 4.47am and running until 11.43pm. From Terminal 4, the H51 bus operates every 30 minutes between 4.21am and 11.51pm. From Terminal 5, the H51 bus runs half hourly from 4.51am to 11.21pm.
Terminals 1-3 station on the Piccadilly line is the nearest stop for guests who are arriving by public transport. It's easy to reach from King's Cross St. Pancras, and links you to both the rest of the London Underground network and to country-wide train services.
Rooms at the Crowne Plaza Heathrow
The Heathrow Crowne Plaza has a whopping 465 rooms, and you get a calm and relaxing night's sleep in any one of them, thanks to the hotel's Sleep Advantage™ furnishing and policies. All beds are made with plush pillows and a soft duvet with mattress toppers, and there are blackout curtains and soothing aromatic sprays in every room to help you drift off.
Room facilities
With all of the amenities available in each bedroom, you might not want to leave! You'll enjoy high speed Wi-Fi internet access, high definition LCD television, ultimate convenience from the drinks making facilities and work space.
Room types
As well as the many Standard and Club rooms, the hotel also offers Family rooms, Accessible rooms for disabled guests, and larger Suites. Club rooms come with extra complimentary features, and the Accessible and Family rooms provide that bit more floor space and ease of use.