What to expect at the Comfort Hotel
With the word 'comfort' in the name, you can be sure that the Comfort Hotel Heathrow is a hotel that's proud of its customer service and quality. This popular 3-star Heathrow airport hotel boasts well-equipped rooms and a family-friendly atmosphere, helping your holiday start smoothly.
A standout feature of the Heathrow Comfort Hotel is its fitness suite, privately available only to hotel guests. The fully air conditioned suite includes treadmills, rowing machines, and plenty of other gym equipment – all in a bright, spacious environment to keep you motivated! The hotel's on-site restaurant welcomes you for breakfast and dinner, offering a great range of delicious meals.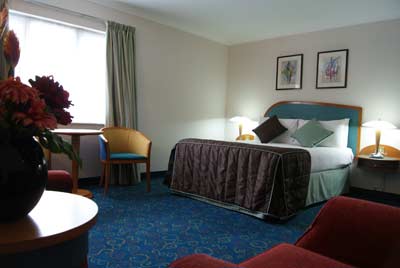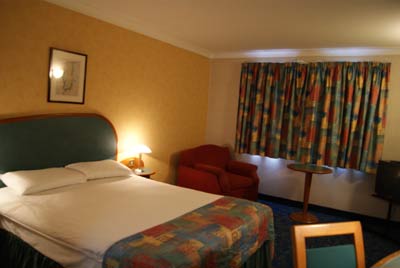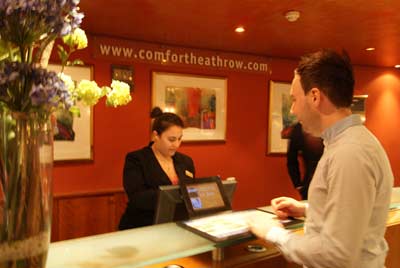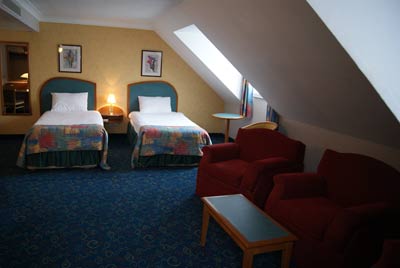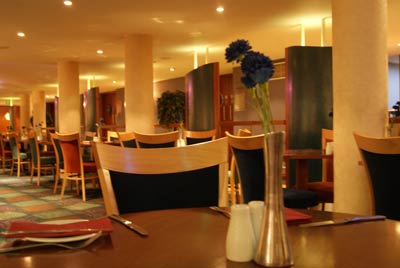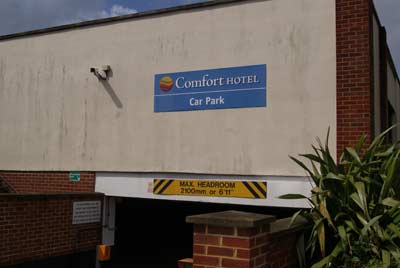 Features at the Heathrow Comfort Hotel
Your holiday starts from the moment you arrive at the Comfort Hotel Heathrow, with the hotel offering an impressive range of facilities to kick off your trip before you've even boarded the plane. 'Comfort' by name and 'comfort' by nature, you're in good hands during your stay. Secured car parking is available for guests who want to leave their car in safe hands whilst they're away.
Guests at the Heathrow Comfort Hotel are given exclusive access to the hotel's fitness suite. Whether you have a regular workout routine, or just fancy a quick go on the rowing machine, the facilities are fully available as part of your stay. The suite is air-conditioned to keep you comfortable whilst you exercise.
When it's time to eat, the Seasons brasserie and restaurant offers diners a great selection of dishes – you will be spoilt for choice. The large dining room provides padded chairs and sofas, allowing you to dine in complete comfort. In addition, the bar and lounge both provide a casual atmosphere for drinks and get-togethers.
Once you've finished dining – or after you've stopped by the gym to work off that cheeky dessert – you will be ready to retire to your cosy room for the night. All 184 guest rooms at the Heathrow Comfort Hotel have a wide yet cosy feel, a home-from-home with plenty of seating and natural light.
Check-in times
Check-in at the Comfort Hotel Heathrow is from 2pm. You must check out by 11am. If you're arriving early or late, you can make alternative arrangements by contacting the hotel in advance.
Parking at the Heathrow Comfort Hotel
The Heathrow Comfort Hotel provides its own on-site car parkM for hotel guests, allowing you to jet off in the knowledge that your vehicle is secured and safe. In addition, your car will be brought to you at arrivals, so you can head straight home.
Procedures
On your arrival at the Comfort Hotel Heathrow, park in the hotel car park and check in. When it's time to catch your flight, just leave your keys at reception when you check out. Your vehicle will be transferred to a secured long-term car park, and delivered to you at the terminal when you return.
Getting to and from Heathrow airport
The Hoppa bus operates from 4am until 11.21pm, roughly every 40 minutes. It takes 15 minutes to reach Heathrow airport from the Comfort Hotel.
It's important to note that the Hoppa does not run to Heathrow Terminal 4. You will need to go to Terminal 5, and then take the H51, H53, H54 or H56 bus from Terminal 5 to Terminal 4.
Transfer charges
Transfers to and from the hotel cost £4 for a single ticket and £7 return per person. If you need to transfer to Terminal 4, this is included in the price of the bus ticket.
Dining and drinking at the Heathrow Comfort Hotel
The Seasons brasserie
The Seasons brasserie offers a varied menu, with traditional and much-loved dishes alongside some international flavours. You'll find it on the ground floor of the hotel. At the brasserie, the open-plan seating arrangement creates a relaxed and informal dining atmosphere. It's open from 6am for Continental breakfast, with cooked breakfast starting at 6.30 am – both finish at 10am. Dinner is served from 5pm Monday to Thursday and 6pm Friday to Sunday. Last orders are at 10.15pm, and the restaurant closes at 10.30pm. Diners at the Comfort Hotel are spoilt for choice – whether a hearty steak or a light pasta dish takes your fancy, you'll find something to suit your appetite on the wide-ranging menu. You can include a three-course meal for two adults in your booking for £33.50. Vegetarian options and children's meals are also available on the wide-ranging menu – and kids under 14 can eat breakfast for free, as long as they're accompanied by a paying adult.
Bar and Lounge
The bar and lounge is open from 10am until midnight every day, so you can pop in for a morning coffee, a refreshing afternoon drink, or a sneaky nightcap before bed. The bar is extremely well stocked, offering guests a wide selection of spirits, world beers, and wines by the glass.
Room service
The Comfort Hotel Heathrow also offers 24-hour in-room dining, allowing you to choose any dish from the restaurant menus and have it brought to your room. If you've arrived very early or late, fancy a midnight snack, or want to take breakfast in bed, simply call down to reception and place your order.
Directions to the Comfort Hotel Heathrow
Directions from
There are few more conveniently located hotels for the M4 than the Heathrow Comfort Hotel, and the motorway easily links drivers to the M25 for central London via junction 4b.
To reach the hotel by car, leave the M4 at junction 4, which is signposted for Heathrow. Follow signs for Hayes, crossing the main intersection into Shepiston Lane. After about a mile, you will see the hotel on your right, close to the fire station.
If you're coming from the M25, exit the motorway at junction 15 and follow signs for the M4 towards London. You can then follow the directions from the M4 to reach the hotel.
If you're arriving by train, there are direct services from central London which stop near to the hotel. The closest rail station to the Comfort Hotel Heathrow is Hayes & Harlington, which connects to London Paddington station and Reading.
Rooms at the Comfort Hotel Heathrow
The layout of all 184 guest rooms at the Heathrow Comfort Hotel has been designed to offer the most floor space and natural light possible. Larger rooms contain seating areas with desks, allowing you to work, relax or use a computer in the comfort of your suite.
The Comfort Hotel Heathrow is an extremely family friendly hotel, and children aged 12 years or under can stay for free if they're sharing a room with a paying adult. Cots and high chairs are available upon request and with no charge.
Room facilities
At the Comfort Hotel Heathrow, you can be sure of a good night's sleep – every room has double glazed windows, covered by blackout curtains to minimise light and sound in your room at night. Satellite television is available in all rooms, with plenty of children's channels on offer to keep younger guests entertained. If you choose to stay in an executive room, you will also receive a complimentary daily newspaper, refrigerator, in-room safe, a bathrobe, and a selection of toiletries.
Room types
The hotel offers standard, superior, and executive rooms, with accessible rooms available for disabled guests on the ground floor. Please contact the hotel in advance to discuss your individual needs.